August 3rd, 2010
Coming back from the floating islands of the Uros people our Lake Titicaca adventure had just begun and we were ready to exlore the next destination on the lake.
The next morning we were picked up by boat to leave for Isla Amantani where we would stay at the house of a local Peruvian family who runs a Casa Hospedaje Ecologica on the hills of Amantani.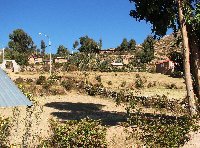 Tours Isla Amantani
Together with another girl of the tour we stayed at this lovely family.
The man of the house, mr Calsin Quispe, and his wife made us feel so welcome that leaving after was pretty emotional.
They showed us around their home and taught us about the life on Amantani Island. We both had our own room which was pretty luxurious considering the fact that most families here don't have a lot of money and often live of their own land.
As we arrived on Isla Amantani the locals were already expecting us and had gathered for a special welcome. From there on everyone was brought to their casa de familia where we spend time with the families and gave them the gifts we had brought them from Puno.
During the day we did some hikes around the island with a local guide and we learned more about the local customs. It was a really unique experience and staying over and really get to know the people turned our island visit into something more than a bit of sightseeing.