August 12th, 2010
From Cape Town we drove in direction of Johannesburg and Nelspruit where we spend the night at a campsite with a BBQ area which was really nice and gave us a chance to get to know the people of the group whit whom we were going to do the Kruger National Park Safari a little bit better.
After a great night of sleep we woke up early to make our way from Nelspruit to the Numbi Gate of the Kruger National Park.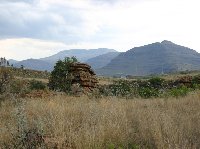 Travel Guide Nelspruit
Kruger National Park has several gates from where visitors can enter the park depending on which way you're coming from.
At Numbi Gate we were welcomed by a giant elephant which was a great way to start our wildlife safari and made us even more enthusiastic.
If you're travelling to South Africa most people consider a safari through Kruger National Park a must and I think I agree:) This is just an amazing part of the country where you'll be able to spot some gorgeous wildlife.
The thing I really liked about our safari tour was that we would spend the night in the park and camp out in the open air! The sounds at night will make you stay inside your tent don't worry and if you really need to get out a ranger will help you on your way.