August 13th, 2010
In July of this year me and my boyfriend stayed at his parents' house in Montesilvano, near Pescara on Italy's East Coast. We had a lovely two week holiday at the beach and at night we went out to one of the many bars after enjoying a lovely dinner by the sea.
There were a lot of nice bars on the way from Montesilvano to Pescara and I loved Lido Beach, right in the center of Pescare, the first bar on the boulevard right of the fountains.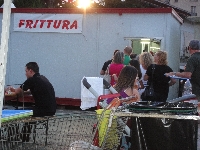 Tours Pescara
They serve a mean Caipiroska alla Fragola and will suprise you with a free plate of pizza slices and tasty fried bites called suppli.
We also visited the Sagra del Pesce 2010 a Silvi, a town near Pescara a just a few minutes drive away. You can also head to Silvi by bus but expect to wait a while at the bus stops.
Silvi itself isn't a big deal and if you're not staying here by the beach I would recommend to stay in Montesilvano or Pescara but keep the Sagra del Pesce in mind because it's the best!
The Sagra is a sort of eating feast for, in this case, seafood lovers and you will be able to eat the freshest fish straight from the Adriatic Sea. But don't worry there are always plenty of sagre so if you miss this one there will be another reason to eat!