August 23rd, 2010
This June I went to New York with my girlfriend and stayed there for five amazing days. I had never been to New York before so I was really excited to go there and I believe I made over a thousand pictures.
I just couldn't stop staring at every single things and we saw so much. New York is a beautiful city, especially in summertime when the weather is also actually really nice.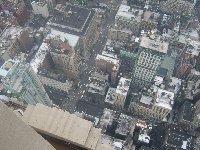 Trip to New York
New York at night is even more spectacular and the views of the New York City skyline are simply unforgettable!
Just walking on the streets I took a lot of pictures and we both loved it all from the gigantic billboards, the yellow cabs, the enormous skyscrapers and the traffic frenzy to peace and tranquillity of Central Park.
We also tried the real New York burgers and I must say that the American cuisine has gone up in my list:) Man, do they know how to flip a burger! Of course, you can't miss the Hard Rock Cafe so you'll definitely find some pictures taken there in my gallery below.
For I forget, huge highlight for my girlfriend, the New York City M&M World, she didn't want to leave!
Looking back we had an amazing five days in New York and we will definitely get back there for another holiday because as soon as we got back home we missed the Big Apple way too much.