May 3rd, 2011
In December me and my best friends hopped on a plane to New York to do some serious Christmas Shopping and of course enjoy a crazy holiday in the Big Apple!
New York in December is even prettier and places like Times Square become part of this magical wonderland filled with Christmas lights and decorations.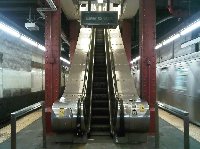 Travel Blog New York
Me and the girls stayed at the Sohotel which was really nice and perfect for us. The decorating was very modern and girly pink, we loved it! The room was spacious and clean as well.
In the 5 days that we stayed in New York we had so much fun and we did some major shopping:) Victoria's Secret and Ugg Australia had never had better clients ahaha. We also did some sightseeing and didn't miss the must see view from on top of the Empire State Building. New York what a city, love love love!