September 22nd, 2011
At the end of summer I went on an organized trip to USA and Canada with my best friend and his older sister.
We had found a travel package on the internet including a road trip along the eastern coast of the US and crossing borders into Canada and were really excited about the itinerary and after some thinking we went with it!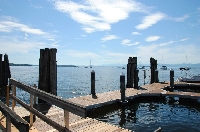 Tours New York
Basically the trip included all the city highlights to be found when travelling along the eastern coast of the USA like New York and Washington D.C. with its impeccable White House building (which btw I had never seen in real life!) before crossing the border and entering Canada.
After an excited New York City visit including all the must see spots like Ellis Island, Times Square and Central Park we moved up north to the Niagara Falls which were gorgeous and crossed borders with Canada where we would stay for the second half of our journey.
We explored the state of Ontario visiting the cities of Ottawa and Toronto where we got an amazing view from on the top of the CN Tower. We also entered the state of New Hampshire to pay a visit to Cannon Mountain for a challenging hike and again some spectacular panoramic views were worth the trip! I am sure this blog won't live up to the trip but at least I got to share it with you all:)