July 14th, 2011
I have been four days in New York and I wanted to share the helicopter flight I went on because for me it was a very unique way to view the city and it was probably one of the best tours I ever been on.
The Liberty Helicopter flight left Downtown Manhattan Heliport so you can hop on and off without leaving the center of New York and still have a day os sightseeing like no other tour can offer.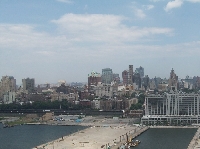 Travel Guide New York
The flight lasted for 20 min ( I paid $215 ) but somehow it seemed like an hour or even more.
I loved the view of the Statue of Liberty and seeing all the touring boats circling around the island from up above. New York is an amazing city and I guess this is the best way to take a good look at the skyline. You can checkt the site of Liberty Helicopters for more information.