October 19th, 2011
Autumn is a great time to visit New York as there will be less tourists than in September or December and you can enjoy the changing of the seasons in the best city in the world!
I travelled to New York in the second week of October so before the Halloween rush and I guess booking your stay will already cost a lot more at the moment.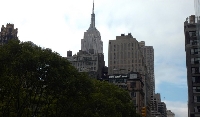 Vacation in New York
Maybe New York is always pretty but I definately prefer Spring or Autumn for the mild weather and the lesser crowds, but like I said di try to avoid holidays because prices in hotels can rise a lot.
Walking through Central Park you could see that the tree leaves were about to color their famous Autumn red and that Summer had really left New York but not to worry because all year round you will find plenty of life here!
Flying in from Paris the evening before I changed my croissant and pain au chocolat for some real American pancakes which tasted so good! I guess that you should only eat the food on the spot where it is invented and it will taste so much better:) Other highlights of local cuisine: the Burger and believe me, no sarcasm here because that was the best burger I had in years! I always thought that they all tasted the same but I was wrong..