July 31st, 2011
This blog will be short since almost every single person that I know has already been to New York but I still wanted to share the awesomeness of the Big Apple so therefor I decided to fill you guys in on my stay there.
Four days for me was a good amount of days and less would probably be not enough to really enjoy the city's great sites. On the other hand maybe a few days extra in New York wouldn't hurt either:)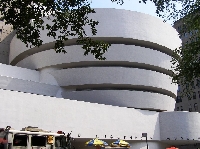 Travel Blog New York
I still regret not grabbing the bull of NYC by its balls, literally, and get my picture taken but there were just too many people standing in line haha I did do some other typical New York City sightseeing things like visiting the Guggenheim Museum, touring Manhattan, Times Square, Central Park, Brooklyn Bridge, Empire State Building and more.
It might sound cheesy but eventhough I was surrounded by a pack of others tourists flashing pictures around me it still felt like I was on top of the world and while looking up from the ground at the endless skyscrapers in Manhattan even the sirens of the NYPD cars and the city's often-heard taxi horns slowly dissappeared, I guess that's a feeling you can only experience in New York and what makes it the biggest of all apples:)