October 5th, 2010
When my husband and I got married last May I could have never expected the suprise honeymoon he had in store for me. The following morning he told me we were leaving off to South Africa!
I had always wanted to go on a dream safari holiday and experience true African wildlife but I guess our honeymoon was so much more than I could have dreamed for.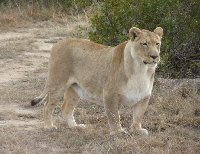 Holiday in Moordkuil
We travelled along the coast of South Africa but stayed the last days of our honeymoon at the beautiful Botlierskop Private Game Reserve, north of Mossel Bay on South Africa's Western Cape and had an amazing stay there.
The Botlierskop Private Game Reserve has its own restaurant and dinner and breakfast was excellent. It was nice to chat with people staying at the reserve as well and everybody, both the guests as the staff was just so friendly.
Then the game drives we did were amazing and we actually got to see a lion, tigers, elephants and we even encountered a grazing rhino!
We had a fabulous honeymoon in South Africa and I would recommend this travel destination and the Botlierskop Private Game Reserve in particular to anyone looking for an exciting and relaxing holiday.