October 8th, 2010
In September my fiance and I combined a holiday in Athens, Greece with a relaxing stay at Santorini.
We stayed one week in Athens which was amazing with so much to see and booked a ferry from there to Santorini. Santorini was also nice but a week might by too long, especially for young couples who like to go out or meet other people to chat with.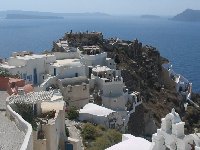 Travel Blog Oia
We still had a nice stay though and rented some scooters with the help of the hotel's owner.
We stayed at a place called Villa Irini which was nice and had a great view.
We spent most of our time lying in the sun and walking or driving around the island. We did go on a boat trip which included an afternoon of snorkeling.
At night Santorini is really romantic, something I really liked and there are a lot of nice restaurants where you can enjoy a fabulous seafood dinner.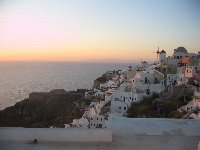 Travel Blog Oia
The villae of Oia wasn't too far from our hotel and we drove their a few times by scooter. Oia is beautifull and known for its blue chapels and white houses built up the hill. We also encountered some people going on a donkey and horse riding tour so if that's your thing you'll find plenty of activity on Santorini!
I would recommend to stay two or three days in or around Oia to enjoy the scenery and amazing cuisine and then continue your travels to another Greek island or return to the mainland because there is so much more to see.