July 14th, 2011
Athens and Greece in general has been in the new for some time now and things aren't going as well as you might expect from a travel destination as popular as Athens but this doesn't mean that the entire country has become an unsafe place to visit.
Yes, there have been riots all throughout the city of Athens and upon our arrival we witnessed the damage done to shops, public buildings and parked cars. We also spoke to the local people who surprisingly where very happy that we still travelled to Greece since the country is in a national crisis and relies heavy on tourism as it being the country's largest sector of income.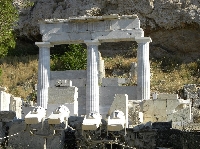 Trip to Athens
Besides a few broken windows and a streetview that needed to be wiped clean we actually found Athens to be an incredible beautiful city and we were amazed by its archeological patrimony. We went on different tours and also took a ride in the Athens sightseeing bus which was a great way to explore the city centre without having to drive.
The Acropolis is without a doubt the most popular tourist attraction of Athens and a place that everyone should see at least once in their lifetime.
The Acropolis is surrounded by impressing remains like the stone theatre of Odeon of Herodes Atticus and the Erechtheum which is an ancient Greek Temple with its famous Porch of the Maidens , a row of six colums shaped like young women carrying the weight of the temple.
More contemporary maybe but just as beautiful would be the building of the National Library of Greece near the center of city of Athens which is established in the mid-19th century. So a tour around the centre of Athens can be just as fascinating as a visit to the Acropolis.