December 13th, 2011
During my holiday in Kos the Continental Palace Hotel was a perfect base and I really enjoyed my stay there. I had an all inclusive pakkage which worked out great with the buffet breakfast en dinner service.
Usually I enjoy dining out but having the choice to eat either out in the center of Kos or stay at the hotel for dinner was just really comfortable.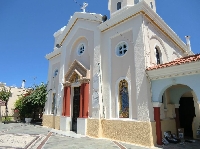 Travel Blog Kos
Kos was simply gorgeous and we had such great weather and it didn't seemed to be late Autumn at all! I would reccomend the harbour area for walks because eventhough there are a lot of tourists this part of Kos is just really pretty and can not be missed.