July 12th, 2011
This June we went to Greece for the summer holidays and stayed near the town of Pythagoreio on the island of Samos in the eastern Aegean Sea, south of Chio.
We stayed at the Hydrele Beach Hotel in Potokaki near Pythagoreio which had a lovely pool and beautiful gardens surrounding the hotel.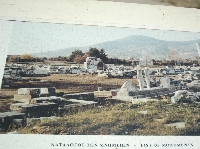 Vacation in Samos
At dinner time there was live music and the staff of the hotel was very friendly. The food was good and the rooms also clean and spacious.
We went on different hikes and explored the capital city of Vathy which offered us some amazing sea views. From Vathy we made our way down to Samos city and this is probably the best way to have a look inside the life that the locals on the island live.
We also walked throught the 1 km Eupalinian aqueduct built in the sixth century BC which was a really interesting tour. See some of the pictures below. A less claustrofobic tourist attraction would be the Temple of goddess Hera or the Panagia Spiliani Monastery a little to the northwest of Pythagorion. The best thing to do is simply rent a car and make your way through the island visiting different towns because there are so many nice places to visit and not enough time to go everywhere by foot.