May 3rd, 2011
Me and my wife travelled together with a group of friends to Zante in Greece. We enjoyed a lovely island holiday and had a wonderful stay.
One of the most toured and visited spots on Zante is Navagio Bay which is known for its shipwreck and dreamy Navagio Beach surrounded by turquoise water and edgy cliffs.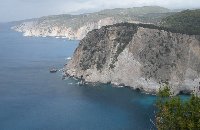 Vacation in Zante
It is the kind of place that you will see in movies or dream about while planning your summer vacation. Unfortunately Navagio can only be reached by boat but we did have the luck to spot this little peace of heaven from above.
We also liked Zakynthos city but spend the most time enjoying the great weather at the beach and exploring that tasty Greek cuisine! I would recommend Zante for a relaxing holiday.