October 18th, 2010
This year my girlfriend and I went on a holiday to the USA and combined a week in New York with a road trip on the West Coast driving down from San Francisco to Los Angeles.
New York was a first time for me and I loved it! We had great weather, the people were really nice and there was so much to see I don't know where to begin!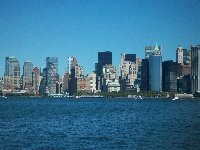 Holiday in New York
We also made a trip by ferry to see the Statue of Liberty and the New York City skyline which was really cool and again the sky was clear blue so the pictures turned out perfect.
Sightseeing some of the neighbourhoods we went to see the Wall Street area, Little Italy and Brooklyn.
Little Italy was really funny as you see some typical Italian things but most places are more American and it has become a real touristic area. We had dinner at Restaurant SPQR, which was nice but more a New York City experience than a taste from the ancient Rome:)
The thing I loved the most was Times Sqaure with all the colourful billboards and overwhelming shops and crossroads, really amazing. O and the M&M Store, my girlfriend didn't want to leave!