November 25th, 2010
The Beijing Cycling Tour I went on during my stay in China lasted for seven days and was such a surprising way to do sightseeing.
I had never been on a cycling tour before and would recommend it to anyone travelling to Beijing. The cycling tour started in the centre of Beijing, the capital city of China where we visited several important sites.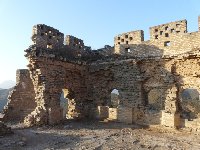 Tours Beijing
I joined the other people in the tour in Beijing where we started with a ride around Tian'anmen and visited the Forbidden City, the Great Hall of the People, Mao Zedong Mausoleum and Tiantan Park.
After two days of sightseeing and getting to know Beijing a little bit better we cycled out of town on the third day to the site of the Ming Tombs.
From there we cycled onto Badaling Great Wall site and spend the night there. What a tour and what a scenery! I was pleased we had to spend enough time to explore the Great Wall and actually visited different sections of the wall like the Mutianyu section of the Great Wall of China located in Huairou.
From the Great Wall north of Beijing City we moved to Chengde to visit the summer residence of the emperors which served during the Qing Dynasty. From Chengde we returned to Beijing by train where my amazing cycling adventure ended.