September 13th, 2011
From Ulaanbaatar in Mongolia we traveled to Beijing in China to view one of the Seven World Wonders with our own eyes; The Chinese Wall.
Of course this wasn't our only stop on the touristic trail and we made a lot of interesting visits to the food markets, the Forbidden City and more beautiful places.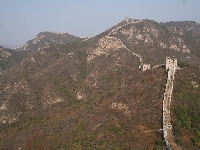 Travel Beijing
Travelling by train has been such an enlightenment for me personally as I never realized how many stunning landscapes I could have come across if I would have travelled by train more often.
Another world wonder was my visit to Chengdu and their panda conservation center, what an unforgettable experience! I would like to recommend visiting the panda's in Chengdu to any traveller planning a visit to China beause, sadly but true, there is nothing quite like it!
But how thinks of a train express trip through China thinks of mystic Tibet so after a few days in Beijing it was time to hop on again and make our way to Lhasa in the southern part of China.