September 20th, 2011
At the moment I am in Beijing for an internship in the fashion industry and I am living my experience abroad to the fullest getting to see as much of this beautiful city as possibile.
I would like to share some great things to do in Beijing with everyone so that you make sure you will come here in the near future!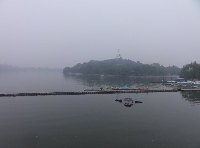 Vacation in Beijing
1.I'll start with Beihai Park, an imperial garden to the northwest of the Forbidden City, which will be the second place worth mentioning but I though it would be could to build it up slowly:)
Beihai Park is home to one of the largest chinese gardens and has a beautiful lake which covers almost the entire park. If you have time make sure to go for a canoe or boat ride on the lake and enjoy the morning dew falling over the park.
Within Beihai Park there are a some stunning pavillions and beautiful temples open to visit such as the Yong'an Temple and the Chanfu Temple. The pictures I took are taken early in the morning but the park would be even better to visit on a sunny day.
2. A second day-trip destination in the northwestern part of Beijing is Fragrant Hills Park. This public park has both beautiful forest landscapes as traditional architecture and will give you a real highlight when you reach the building of Palace hall sitting at top of Fragrant Hills.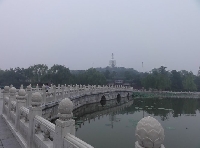 Vacation in Beijing
The best think about this park is that you can take a ride through it by cable car and this is probably also the reason why there are so many tourists! Make sure to prepare for some nice walks and the views over the hills will amaze you. The best period to visit this park would be autumn as the colours of the leaves will make this place even more typical.
3. Longtan Park and its Dragon Lake can be found in the Chongwen district of Beijing and is great to visit at night. This recreational park is also a good place to visit when you are travelling with children or if you are a luna park diehard like myself because the lit up dragons make it almost movie-like exciting!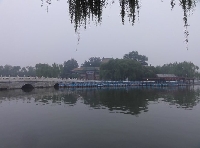 4. Southwest of the Beijing city center you will find Lugou Bridge, also known as the Marco Polo Bridge because praised by Marco Polo during his visit to China.
5. The Olympic Park of Beijing is a real eye-catcher and a must visit because this sports campus will show you why the Olympic Games were held in Beijing back in 2008.
6. The Wofo Temple and the location of the Recumbent Buddha near the Beijing Botanical Garden are my last day trip suggestion and you can take a look at all of these six tourist attractions pictures in my photo gallery. I hope you will enjoy China and Beijing as much as I do!