November 30th, 2010
Barcelona is a beautiful city so everyone was really excited when our mentor revealed the travel destination we would be heading to for our annual field trip.
Last year we went to Prague which was also very nice but being November we all prefered a more exotic travel destination so Spain was perfect!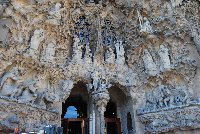 Vacation in Barcelona
We had great weather in Barcelona and for the time of year it was still pretty warm.
Of course we had to take our advantage and spend some time on the beach but we also did a lot of sightseeing in the center.
Obbligated and must see tourist attraction of all time, The Sagrada Familia Church with its dramatic architecture and impressive sculptures. From the Sagrada Familia we went to Park Guell by metro which was a lot of fun and a prefect way to get around in Barcelona.
We had an amazing time and the five days we had to spend in Barcelona were over before I knew it!