March 4th, 2010
Barcelona is an amazing city with friendly and hospitable people always willing to look at the bright side of things. It's easy to make new contacts and you will be surprised by the many events and opportunities to discover new parts of this city.
The nieghbourhood of Barceloneta is perfect for a late afternoon stroll while the busy streets of Las Ramblas are fascinating at all times. You will see a lot of interesting street artists, from actors and singers to designers and painters, all trying to make a living of their creativity.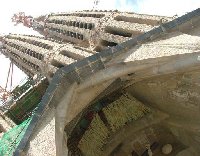 The Sagrada Familia in..
The climate is perfect and the local cuisine tastes just fine! Walking through Barcelona the works of Gaudi won't go unnoticed and art pieces like the Sagrada Familia, which has been under construction since 1882, make this city even prettier.
Barcelona is a very beautiful and clean city with nice people, convenient prices and great food. Everything you look for in a travel destination!