March 11th, 2010
After a year of hard work I really needed a holiday so me and my friends decided to book a trip to Barcellona. When we arrived in Barcellona we rented an appartment which was located on the popular Ramblas, right in the city centre!
The appartment was a bit small but had all the necessary facilities like a cooking area, a telivision and stereo set and most important of all, air conditioning!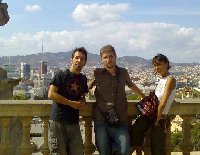 Panoramic view from the..
My holiday in Barcellona was probably the best I ever had and we got to see and do so many great things. Travelling with a group of close friends is amazing and on the other hand also the city we choose to travel to was amazing with a lot of opportunities everyday from spending a day on the beach to heading out to go sightseeing in the different parts of town.
Having that combination of culture, entertainment and beach fun worked out great for us. We went to see Gaudi's Casa Batillòche where we had to pay a 17 euro entrance fee to get to the master pieces which turned out to be totally worth the money.
Other attraction we went to see include the famous Camp Nou, the stadium of the Spanish soccer team, Parque Guell, the Picasso Museum and the shopping centre of Mare Nostrum.