March 8th, 2010
In may of 2005 I went to Barcelona with seven of my best friends and we had the best time! We spend a week in this amazing city full of entertainment.
We had great weather and spend some beautiful days on the beach. Of course the city of Barcelona had just as much to offer!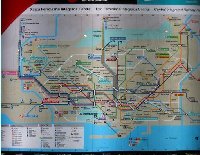 Photo of the Metro lines in..
This modern city has some of the most fascinating art pieces like teh Sagrada Familia, the Avenguda Diagonal and the Meier's Museum.
Also the harbour area of Barcelona and the beautiful gothic churches can't be missed. The best thing to explore this city is by diving into its busy city life and walking through the different alleys.
I would recommend Barcelona to anybody and besides all the things to see, the great nightlife and the approximity of the beach you must taste their food because no trip to this city is complete without some of paella!