December 13th, 2010
Every now and then I head to New York for work and if possibile I always try to add at least a day to my time there te enjoy some sort of a short holiday in New York because it always gives me such a positive vibe.
Best period to be in New York, definately in Spring or Summer if you ask me when the first or last rays of light shine over the city and it fills with happy people. I love to be in Central Park or go for a ride on the Hudson River.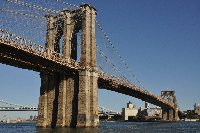 Travel New York
Of course Christmas time is also a popular period to travel and visit New York but the cold might surprise you, nice for the experience but not something I would repeat every year!
When I´m in New York for business on short trips I usually stay at the Millenium Hilton but if you will have the time to plan your trip carefully you might discover a wide range of more affordable hotels in popular areas like Brooklyn or around Central Park aswell.