March 29th, 2011
This February we drove to the south of Italy for a week in Alberobello, a beautiful region in the province of Bari in Puglia.
Alberobello is known for its trulli or capanne which are turned into a popular real estate business but can also be rented for the holidays like we did.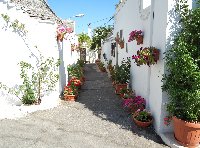 Travel Guide Alberobello
During our vacation in Alberobello we had great weather which made the town even more prettier with its pink oleander flowers and white trulli everywhere!
The trulli are quite popular and even part of the UNESCO World Heritage list. To be able to live in one with our family was really special and made our holiday a lot of fun for the kids as well.