April 27th, 2011
Since a few months our daughter moved to New York City for work and this month my husband and I went to visit her in her new hometown.
We stayed for a total of 9 days and had booked a room at stylish The Stay Hotel, located in the heart of Times Square.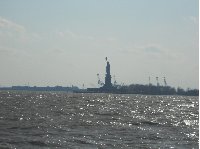 Trip to New York
The hotel was really luxurious and for us the perfect place to unwind and indulge after a day of sightseeing. We had been to New York before but it was really nice to go on a trip with our daughter as our tour guide around town.
We hopped on the New York City Sightseeing Bus which was a lot of fun eventhough not the best view for taking pictures..We also went to see the Mary Poppins musical at New Amsterdam Theatre, visited Ellis Island and did some tourist souvenir shopping at the M&M Store.