July 11th, 2011
During my time in Nagoya Japan where I went for period of 4 months as part of a study abroad programme I learned a lot about the Japanese culture and attending the Nagoya Gakuin University, making friends and learning the language was a huge experience for me and I'm so glad I simply went for it!
Nagoya lies in central Japan on the Pacific coast and is one of Japan's major ports and an important city for the metropolitan area of central Japan where giant market players such as Toyota and Mitsubishi built their empire.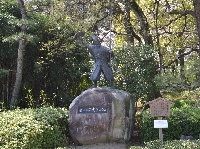 Trip to Nagoya
Right now I'm back in the States but I might return to Nagoya for an internship in the near future. As for pictures I added photographs of the Negoya Castle which we visited on a trip organized by the University.
The Nagoya Castle was the center of an important castle town known as Nagoya-juku and an important stop on the Minoji Highway, a road of great importance in the Edo Period running from 1603 to 1868.
The Nagoya Castle Complex is surrounded by walls and walls and turrets at its angles creating a gorgeous labyrinth decorated with cherry trees which were all in bloom at the time of my visit and which made the complex even more impressing.