September 4th, 2010
I just returned from a two months internship in Japan which was arranged by my university. I left for Japan in July and flew back a few days ago.
I had a great study experience and I met a lot of nice and interesting people with whom I hope to keep in touch.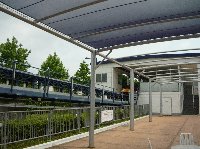 Holiday in Yahatahigashi-ku
During the last week of my inyternship our project manager even surprised us with tickets to Space World!
Space World Japan is located in Yahatahigashi-ku ward of Kitakyushu and to get there from Tokyo where I lived on a campus we had arranged for a touring bus.
I had never been to Space World before and was really excited about the Japanese version of it. The attractions were awesome and it was the perfect way to end my stay in Japan. I have attached some pictures that I've taken throughout our day in Space World, so check it out!