July 29th, 2011
The first two weeks of July my partner and I went on a trip to California and toured from Los Angeles to San Francisco and back again to LA covering both the coastal itinery and Las Vegas and the national parks more inland.
The national parks we visited, Sequoia National Park and Yosemite National Parks, were beautiful but I still prefer the coastal drive because of all the laid back cities like Santa Barbara and Santa Cruz where we stopped to enjoy the great beaches and enjoyed the wonderful lifestyle here.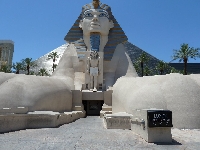 Trip to California
Before re-entering Los Angeles from where we had our Delta flight back home we drove through the Death Valley National Park into the state of Nevada to try our luck in Vegas. Las Vegas was great and although a bit over the top we loved our stay at the Las Vegas Luxor Hotel.
San Francisco would be the best place to stay for a longer time because of the quality of life while Los Angeles is a city to live life to the max and enjoy all the partying, the nice shops and beaches. Las Vegas in my opinion is a good third to spend a weekend but not a place to live I guess.
Our trip was great and especially the road trip was something I would definately do again because of the beautiful landscapes and the freedom you have to go where you please. The rental prices from LAX LA Airport weren't even that shocking and for less tan 50$ a day you can drive a nice 4WD or a Dodge Charger like we did.
As a destination California is great because the people are so outgoing willing to help you out and chat up anytime, plus the weather is good year round so that won't keep you from coming here either!