August 3rd, 2010
From Amantani Island we made a trip to Taquile Island which is another island of Lake Titicaca that is often visited by tourists.
The inhabitants of Taquile Island, the Taquilenos, are known for their fine handwoven textile and clothing.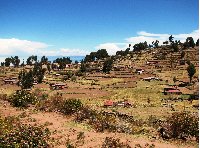 Holiday in Taquile Island
Visiting the island you'll notice that only the men and not the women are responsible for the knitting and when you walk in the streets at night you'll see them sitting together on the side of the road.
The children and the women will try to sell the textile products on markets or they will simply walk up to you. The quality of the knitting, we were told, is the best in Peru so we could not leave Taquille without at least buying some bracelets.
Like on Isla Amantani also the locals here offer homestays and local guided tours to experience the island from the heart of the island. There are also some really nice restaurants and especially the roasted potatoes are exquisit!