December 26th, 2009
Rome is Europe's historic capital and one of the most romantic cities in the world. The historic centre has more attractions than any other European city and hot spots like The Colosseum, The Trevi Fountain, Piazza del Popolo, Piazza di Spagna and a milion other gorgeous places will keep you gazing.
You can reach the centre by car, motorino but the metro will probably be your best option as parking is a true nightmare. The metro system is divided into Linea A and Linea B with the first one being the most central whilst the second one also leads to the Roman suburbs.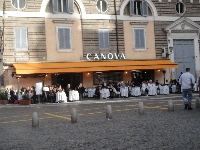 Nice Italian Restaurants in..
You can switch from Linea A to Linea B at Termini Station. For example The Colosseum is part of the Linea B route but all the other attraction in the centre like Piazza di Spagna with its luxurious shops along Via Condotti and Piazza del Popolo to get to the Villa Borgese park and the shops on main shopping street Via del Corso, are part of the Linea A.
A good spot to grap a bite to eat during your walking way would be at Ciro, probably the best restaurant in the city centre. You will find Ciro close to Piazza San Silvestro when heading from Via Del Corso in direction of Piazza Venezia on your left at the Miss Sixty Store. Just walk straight, pass the square on your right and there you'll find Ciro.
At Ciro you will be the only tourist in the place, as only Italians make their way to this fab restaurant. The owner and staff are from Naples and will deliver you the best pizza in town. Make sure to choose a seat in the back of the restaurants where you will be able to see the cooks at work!
After eating here you will know the difference between a tourist pizza and the one the Italians are famous for:)