December 30th, 2009
The best New York city attractions are the Statue of Liberty, the Empire State Building, Central Park, the Metropolitan Museum, the Rockefeller Center and Times Square.
My favourite actually are Times Square and the empire state building. New York is the city that never sleeps for real.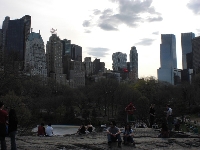 Central Park
You will find bars, shops, restaurants open 24 / 7 . And you will just love this city. New York is also great for shopping, you will find whatever brand you are looking for in this wonderful city.
I also enjoyed many theatrical performances in Broadway where there are more than 40 theatres.
I loved walking through the five boroughs of New York: The Bronx, Brooklyn, Manhattan, Queens, and Staten Island.
And is pretty nice to relax in Central Park and start again walking across the city.