January 4th, 2010
On this second blog some more pictures of the trip we made through the Garden Route National Park with its amazing beaches, lakes and mountains.
We managed to take some great pictures on the beaches of Buffalo Bay, Jeffreys Bay and the Wilderness region. The beaches in this part of South Africa are so unspoilt and show a huge contrast with some of the pollution you'll come accross more inland.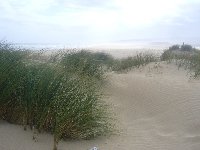 Pictures of the dunes in..
Long stretches of sandy beaches with rocky cliffs and the weirdest gifts from nature right on the beach. Besides a thousand shells and branches we even found a dried up balloon fish. For this amazing photo just take a look at the previous blog 'A Trip from the Cape to the Garden Route National Park'.