January 13th, 2010
Today at school many people asked the teacher if Rome was a country or a city. I know that's shocking! Of course Rome is a city! And a beautiful city!
I was there last year and I had a great time. I loved visiting the Colosseum, such a beautiful Roman construction (more than 2000 years old).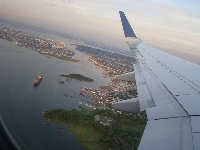 The view from the plane..
Other than the Colosseum I really liked Piazza Venezia, Via del corso (great for shopping) and Piazza di Spagna where you can sit, eat an icecream and get a great tan (at least during the summer!).
At night there are many places to go out in Rome: there is a nice club called The Maison were you can drink the best coctails in the city and dance till 3 in the morning.
And I found the best food in Trastevere where you can walk and have a fantastic dinner.