January 18th, 2010
Catania is located in the east of Sicily and has one of the most beautiful and characteristic city centres. Piazza Del Duomo is known as Catania's central meeting point, close to the fish market of Piazza Pardo and the tasty pasticcerie and bars. During the day Catania has a lot to offer and you can spend your days looking for souvenirs on the markets, shopping in the beautiful shopping lanes or by taking a tour to the Etna vulcano.
The fish market of Piazza Pardi is a big happening in Catania and all the locals come here to buy their fresh fish but also other groceries like cheese, fresh herbs, meat and sweets. You can hear the shouting salesmen over the entire square and walking through the market as a tourist you will definitely make you stand out.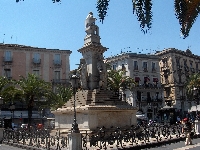 Statue of Vincenzo Bellini
Even if you're not planning on cooking yourself you won't have anything to worry about because this is the city where delicious food was invented! You can taste the freshes seafood combined with amazing pasta dishes that are surreal. Walking around town we decided to ask some locals for a good place to eat and we ended up in a traditional trattoria where I am certain to have tasted the best pasta in the world. It was so good that I forgot the name of the trattoria but I remember the name of this dish on their menu. Pasta Verde Mare with shrimps, pesto, tomatoes and all kinds of herbs which blended into perfection.. Viva Catania!
Another place where we had lunch and which I do remember was called Trattoria Via Monte S'Agata, located on Via Monte S'Agata 11. Try their seafood dishes and you'll never want to leave.
We booked a guesthouse through the internet but when we arrived the area we drove into looked like the ghetto of Catania and the hotel looked more like a failed tanning studio than a comfortable hotel so we decided blocked our credit cards straightaway and started looking for something else. Luckily we found the San Max Hotel, near the Vincenzo Bellini statue and close to the Duomo, pretty quickly and even if the price was a bit higher we were so happy with this hotel. Beautiful and spacious rooms and a free guarded parking lot in the middle of Catania. Perfect!