February 12th, 2010
What can I say about New York, The Big Apple? A beautiful city and even more stunning when I was there in 1996 when a tourist was still able to walk around the city and admire its beautiful Twin Towers.
I remember climbing up the South Tower and standing on the rooftop with this incredible feeling while I could see the entire city of New York. A truly unforgettable experience! Unfortunately also a unique experience which I would never be able to relive.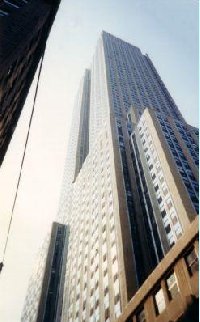 Photo of the Empire State..
After the incident of 11 september 2001 I never felt the same way about New York and I never went on a second trip. It would simply be too difficult not finding the Twin Towers where they stood ten years ago. The Twin Towers in a way were a symbol of New York and literally something to look up to.
Of course New York still has a lot to offer and there are many interesting places to visit like the Natural History Museum and the adjacent Planetarium. You would definitely need a couple of days to explore this impressive city and you can't go without taking in the impressive New York skyline or its popular Central Park, a green city within the apple!
I loved New York for its cultural melting pot of people and and it really is a city of possibilities. Everything you might need is in New York and just when you think life gets a bit superficial, you discover the art works in the hall of the Empire State Building, the Louvre has never had bigger competition.