February 15th, 2010
I made this trip to New York in march of 2006 as a member of a diplomatic organization and during a sort of overseas internship. To get to New York we had a long flight ahead of us and leaving from Italy it took us about 13 hours to finally arrive in the United States.
First we had a flight from Catania in Sicily to Rome which took about an hour and then we had to take a flight to Frankfurt in Germany from where our final flight to New York would depart. Another hour later we were ready to board our final plane and prepare ourselves for a trip to the Big Apple!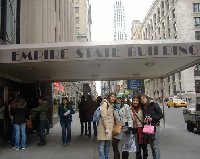 Picture of the Empire State..
From Germany to the United States we flew about nine hours but as tired as we were we couldn't wait to catch a first glimpse of New York City! I remember getting out of the plane in a sort of trance. New York is a really unique place and it's even better than what you imagine before coming here!
The massive skyscrapers are stunning and you can't help walking through the streets of New York with your head up high while staring at these amazing buildings like the Empire State Building or the Chrysler Building. Also a must do is a visit to a real NBA basketball game!