February 25th, 2010
Amsterdam might not be one of Europe's largest cities, but to me its one of the most characteristic and beautiful places. Walking around the city centre with all its beautiful houses and elegant canals it almost reminds me a bit of Venice.
It might get a bit cold during the winter but spending your New Years Eve in Amsterdam is really a great experience.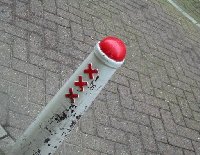 The symbol of Amsterdam.
You will see people ice skating on Dam Square and the streets look even better with all the Christmas lights on!
At night there is plenty to do and you will find a wide range of bars and restaurants to suit all tastes. I have been to Amsterdam many times now and it's one of the places I always go back to. I even have my own appartment space there so an even better reason to visit!