March 1st, 2010
Sometimes you don't even have to travel far to find your perfect travel destination. I live in Italy and together with a friend of mine I decided to spend my summer holiday in Sicily, in San Vito lo Capo.
This really is a place that I would recommend for its amazing atmosphere and great beaches.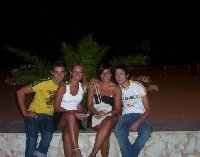 Night out in San Vito lo..
The people are fantastic and really easy to talk to and the places we visited were really pretty.
You could either spend your lazy days on the beach of decide to go sight seeiing. The food is also terrific and you can taste the real traditional Sicilian cuisine!