March 4th, 2010
Mykonos is an amazing place with great clubs which are located in the most beautiful angles of the island.
I really loved a bar called Cavo Paradiso which is a huge club built on the rocks with dance floors surrounding a large swimming pool that looks out over the sea, an incredible place!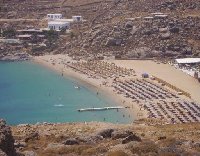 Looking down on Super..
During the day you will have all kinds of entertainment on the beach and you will meet people from all over the word. Mykonos is a great travel destination for people looking for a bit of relaxation and are ready to have some fun!
The water surrounding the island of Mykonos is stunning and the panorama's are amazing, especially at sunset. Another thing I liked about this place is that the people were really friendly and willing to help you out in any kind of situation.
The food was also great and the prices pretty convenient. To get around the island you can just rent a scooter or a small motorcycle.