March 12th, 2010
I have visited the cities of Trento, Merano, Bolzano and Innsbruck together with my aunt and her collegues to go and visit the different Christmas markets in these places.
Some of the markets were pretty amazing and I loved the markets in Merano which has also a great city centre. The Christmas market in Trento was also nice eventhough a bit smaller than the one in Merano.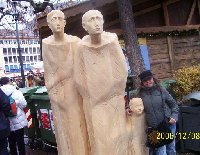 Photo at the Christmas..
The characteristic city centre of Trento on the other hand I really loved and they have an amazing main square, called the Piazza Duomo which is just pretty.
Bolzano was less of my liking, maybe because the Christmas market here was really crowded and you didn't get to see that much of all the different stands.
Innsbruck was the last city we visited, a beautiful and huge city. I really liked the city with all the shops and bars, it was just a shame it didn't stop raining!
Anyway, all the places were worth a visit and we had a great day strolling trhrough the different Christmas markets.