March 16th, 2010
Sicily is an island with an enormous historical and cultural value.
Through centuries many different cultures have called La Sicilia their home and together this melting pot of ideas and values have created the culture that today represents the costums and traditions of the Sicilian people.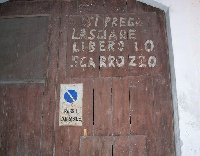 Street signs in Sicily.
On my trip to Sicily I got to see only a small part of this amazing island and that is the region of Marsala and Agrigento, two florishing cities with a lot to offer.
You will find a lot of nice beaches, eventhough some are getting ruined by tourists and locals alike who tend to leave their rubbish wherever they please.
The cities of Sciacca, Agrigento and Marsala have a great artistic value and you will find a lot of beautiful churches and piazza's to still your travelling hunger.
The people are also very welcoming and warm which can't be sad about all travel destinations.