March 23rd, 2010
This trip was my first time in Sardinia, a beautiful island of Italy and placed south of Corsica.
This island is one of the most unique parts of Italy where you will find a very traditional and welcoming population.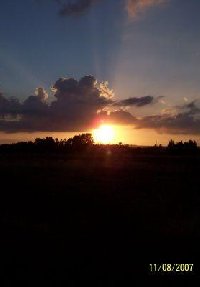 Amazing sunsets in Sardinia,..
Of course far away from the heavily touristic Costa Smeralda which is called the home of all the major VIPs and celebrities.
We travelled around Sardinia in camper because this way we could really enjoy the coastal landscapes and get the most of this adventurous experience.
You can choose whether you want to stay in hotels, residences or camping grounds, its all there!
The sea you will find along the coasts is amazing and crystal clear. The beaches vary from soft white powdery sands to amazing golden dunes covering a more rough hinterland.
The landscapes and sceneries are amazing and driving around at sunset will leave you with some breath taking panorama's.
I would definitely recommed Sardinia to those who love being close to nature and enjoy a relaxing holiday away from all the chaos.