August 2nd, 2010
Three years ago me and my wife made a trip to Japan where we arrived in Tokyo. We partly planned our roundtrip and had arranged for a hotel the first four days in Tokyo.
From Tokyo we travelled to Yokohama City which is located to the south and faces Tokyo Bay.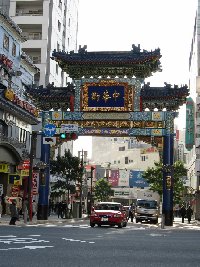 Travel Guide Yokohama City
Yokohama City has a spectacular skyline on the bay and is known as a commercial booming area and the second largest city of Japan.
From Yokohama Queens Square you will have a very nice view of both the bay as the Yokohama City skyline.
This area is known as Minato Mirai 21 and is pretty popular with tourists, also because it's near to Yokohama Chinatown so it's a nice itinerary to follow.
From the Kishamichi Promenade you can also get a nice view of the Minato Mirai 21 business district with mega tall white skyscrapers and of course Yokohama's Giant Wheel also known as Cosmo Clock 21.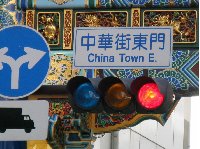 Travel Guide Yokohama City
Most travel guides will contain a Yokohama City Guide or you will be able to find more info at the Tokyo section of your Japan Guide.
One of the things we read in our Yokohama City Guide was to visit the Doll Museum, something that I wouldn't have found otherwise. This kinds of inside info makes it very convenient to do your sightseeing with a pocket guide.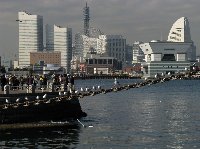 Other things we went to see were the Yokohama Marine Tower, Yamashita Park and like everybody visiting this part of town Yokohama Chinatown.