August 3rd, 2010
From Arequipa we headed to Chivay and entered the Valley of Volcanos, or Zona de Vicunas, as a road sign explained us. There are many options when you're driving from Arequipa to Chivay and we travelled the shortest road that runs through the Reserva Nacional de Salinas Aguda Blancas.
The road literally took us through the Zona de Vicunas and we made several stops to take pictures of these volcanos. Besides the landscape this part of Peru is also known for the high concentraion of lama's and when we passed there in October the newborns were just getting up and running around.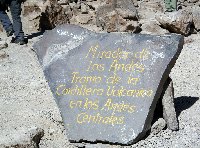 Travel Guide Chivay
From the bus we tried to take pictures of the lama's which seemed to be almost everywhere. We also made a stop at a giant granite rock formed by the volcanic deposits.
At the rock there was a little market of local craftsmen selling their items which enabled us to search for some nice souvenirs.
At one of the stands they sold a typical Peruvian coca leaves tea which will help you forget about the heights and give you that extra energy boost, great stuff!
Back in the bus we spotted more lama's and we even passed a lama farm next to a lagoon in the valley. From there on we headed to the Pass of Patapampa in the Canyon del Colca which lies at an altitude of 4910 meters.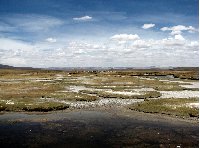 Travel Guide Chivay
Again, there was a little market of woolen products and local crafts. From the Pass of Patapampa we headed and finally arrived in Chivay where we checked into our hotel.
Chivay is a small but nice village with outgoing locals and a lovely local market. We had just arrived in time in Chivay as the next day there was a local celebration and all the people of the Colca Canyon had come to Chivay to enjoy music, food and dance together.