August 17th, 2010
After an 11 hour flight we arrived at Osaka Airport, the city from where our trip through Japan would start. In Osaka we were picked up by our tour operator and driven into the city.
We had arranged this trip to Japan with a couple of friends all passionate about the world championship long distance ice skating held in Japan that March 2008.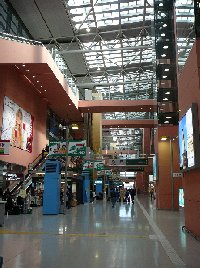 Travel Experience Osaka
We stayed for a total of ten days in Japan travelling from Osako to Kyoto, Hakone, Tokyo and Nagano.
In Osaka City we went to see the harbor and other tourist attractions like the Umeda Sky Building, also known as the Floating Garden Observatory, and the Osaka Castle, one of Japan's most famous castles and from where you'll have a beautiful view of the Osaka City skyline.
Near the Osaka Castle there are plenty of food stall if you want to take a break from sightseeing and taste the local cuisine, something that I personally can highly recommend!