August 17th, 2010
From Odawara City Station our guide took us on a ride south through the mountains all the way to Hakone Town.
Hakone is located on the eastern side of the Hakone Pass and the town itself is centered around the Ashi Lake, part of the Fuji-Hakone-Izu National Park.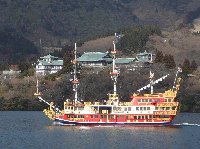 Travel Guide Hakone
Like the name suggests both the town of Hakone as Mount Fuji and the Izu Peninsula south of the lake is part of the Fuji-Hakone-Izu National Park.
After a quick chech-in at our hotel in Hakone our tour guide Tommie took us on a Lake Ashi Cruise from the Hakone-machi city center to Moto-Hakone on the southeastern shore of the lake.
During our Lake Ashi Cruise we observed the beautiful replica's of traditional vessels and historical boats. Unfortunately we weren't able to see the tip of Mount Fuji through the clouds but the cruise was just as rewarding.
We also visited the volcanic valley of Owakudani which is known for its hot springs and impressive scenic views. We even got to taste a very curious local specialty called Kuro-Tamago, which are boiled eggs from the hot springs of Owakudani and let's just say that they taste a bit better than they smell..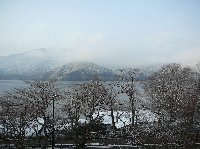 Travel Guide Hakone
Another touristic attraction that I really liked was the Hakone Hakone Ropeway which is a sort of cable car service or aerial lift which runs in the town of Hakone covering a sightseeing route between Odawara and Lake Ashi covering the volcanic valley of Owakudani as well.
To continue our trip from Hakone to Tokyo we headed back to Odawara and got on the bullet train again to enjoy another half an hour ride to the capital of Japan and a travel destination I had looked forward visiting all of my life.