October 5th, 2010
This September me and my wife joined an organized trip to China. The holiday lasted for three weeks and included accomodation and flight.
We stayed in Beijing and toured around the city by bus to visit popular touristic attractions and cultural sites.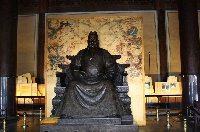 Where to go in Changping
We had a Chinese and English speaking guide which joined us on all of the bus trips.
The most memorable day trip must have been the one to the Changping District, north of Beijing and home to an incredible landscape and one of the major passes of the great wall of China.
We made a trip to the Juyongguan Pass in the Guangou Valley, one of the three great passes of the great wall of China and a perfect place to walk over the bridge and gaze at the immense and overwhelming surroundings.
After our visit to the Juyongguan Pass we continued our trip to the Ming Tombs, another great site north of Beijing and a mausoleum founded by Yongle, the third emperor of the Ming Dynasty.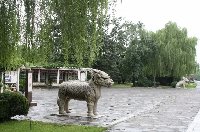 Where to go in Changping
Walking around the site of the Ming Tombs where thirteen of the Ming Dynasty emperors were buried you'll also find the reminders of Yongle who is well represented and remembered not only as the founder of the Ming Mausoleum but also as the founder of Beijing, which became the capital of China under Yongle.
The site has a beautiful entrance gate and a long paved road, called the Spirit Way, leading to the main complex. Except for a little rain the trip was very interesting and we learned a lot about China's imperial past.