August 15th, 2011
Chengdu in Southwest China is known for its Panda Reserve and a beautiful city in general that a lot of people visit on their way to visit Tibet or other places in China.
Besides the Chengdu Giant Panda Breeding Research Base which is probably the number one tourist attraction in Chengdu and China as well because of its amazing programmes there are numerous of interesting places to visit like The Giant Buddha.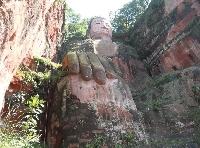 Travel Guide Chengdu
The Giant Buddha of Chengdu is actually to be found near Leshan City so it would be a great place to go on a day-trip by bus from Chengdu as this enormous Buddha carved out of Mt. Lingyun is about 160 km away, still well worth the trip there.
Back in the city you have to visit Qingyang Gong Temple which is one of the most ancient Taoist temples in of Chengdu City.