December 8th, 2010
After graduating last September my fiance surprised me with the best city trip in the world, a eight day stay in New York City, and I had never been there!
A holiday of eight days in the same city might become a bore somewhere else but not in New York and I really felt like a new world had openend its doors in front of me.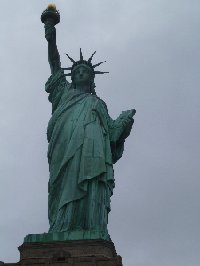 Holiday in New York
Living in Europe there are big cities around but a metropolis like New York City is just something we don't have and I loved the feeling of being completely overwhelmed by it all, the tall buildings, the yellow cabs blending in with the crazy traffic, the madness around Times Square and the amazing variety of things to do! Eight days wasn't even enough!
It was a great after summer holiday and having worked the past months without taking a summer break this was the perfect getaway for me. Being a History graduate I loved our visits to Ellis Island and the American Museum of Natural History, but to be honest I wouldn't change about the rest either. New York City, a great city and definately somewhere I'll return soon!